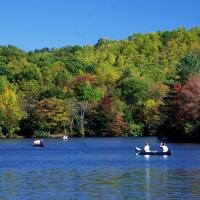 Milepost 297 Blue Ridge Parkway, Blowing Rock, NC 28605
Boone Fork Trail
Blowing Rock
North Carolina
28605
US
A popular destination on the Blue Ridge Parkway is Julian Price Memorial Park, at the foot of Grandfather Mountain, near Blowing Rock, North Carolina. The Park is adjacent to Moses H. Cone Memorial Park and together the two comprise the largest area developed for recreation along the Parkway.
Comprising more than 4,300 acres, including a small lake, Julian Price Memorial Park offers many activities, including hiking, fishing, canoeing, camping, guided walks, and evening campfire programs. The grounds include 100 picnic sites, with shelters and comfort stations. A 300-seat amphitheater is used for lectures and talks during the summer months. Canoes can be rented for use on Price Lake.
The park's seven trails include the Price Lake Loop Trail (2.7 miles), which circles the well-stocked lake, and the challenging 5-miles Boone Fork Loop Trail. The ingeniously engineered Tanawha Trail (13.5 miles) passes under the Linn Cove Viaduct and wraps around the southeastern ridge of Grandfather Mountain.
Julian Price Memorial Park is named in honor of Julian Price, an insurance executive who purchased the acreage in the late 1930s and 1940s to create a retreat for the employees of his insurance company, which later donated the lands to the Parkway.
---
Hours of Operation
The park is open 24 hours a day, seven days a week.
---
Admission Fees
A nominal fee is charged for campsites.
Hours of operation and fees are subject to change. Contact directly for most current information.
---
Location
The entrance to Julian Price Memorial Park is located at Milepost 297 on the Blue Ridge Parkway.
---
Park Campground Kiosk
(828) 963-5911
---
Sandy Flats Ranger Station
5580 Shulls Mill Road
Blowing Rock, NC 28605
(828) 295-7591
---
Blue Ridge Parkway Visitor Center
195 Hemphill Knob Road
Asheville, NC 28803
Blue Ridge Parkway Visitor Center: (828) 298-5330
Visitor Information Recorded Message: (828) 298-0398
---