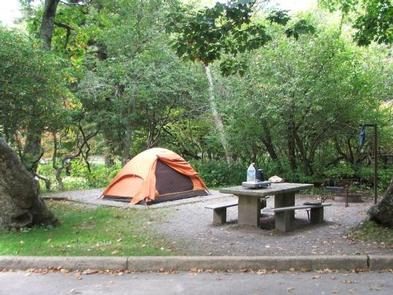 408 Blue Ridge Pkwy, Canton, NC 28716, USA
408 Blue Ridge Parkway
Canton
North Carolina
28716
US
Season Dates
Mount Pisgah Campground facility is open during the following season(s):
May 17, 2019 – October 20, 2019 (Peak Season)
October 21, 2019 – October 27, 2019 (Walk-Up)
During the above season(s), individual campsites are released on a 6-month rolling basis:
Currently reservable availability is released through October 27, 2019.
---
Overview
Mount Pisgah Campground is perched in the rolling mountains of western North Carolina along the famous Blue Ridge Parkway.
---
Facilities
Both RV and tent sites are available at this roomy campground. Modern amenities like flush toilets, drinking water and a country store create a comfortable camping experience. Sites come with picnic tables and fire rings, perfect for barbecues and marshmallow roasting. In addition to the 53 sites available for advanced reservation, 72 campsites are available on a first-come, first-serve basis. Mt. Pisgah campground is often times full each weekend when the campground is open. Mt. Pisgah Campground advance reservations require a 2-night minimum stay. One-night stays are allowed on first-come, first-served sites
---
Natural Features
Mount Pisgah is part of the Appalachian Mountain Range, an area of the country with scenery that never disappoints, whether blanketed in wildflowers in the spring or bursting with red, orange, and yellow hues in the fall. The Blue Ridge Parkway is a scenic byway that follows the high crests of the central and southern Appalachians for 469 miles from Shenandoah National Park in Virginia to the Great Smoky Mountains National Park in North Carolina. At an elevation of 4,980 feet (1,518 m), Mount Pisgah offers moderate to cool temperatures during camping seasons.
---
Recreation
Several popular hiking trails, ranging from moderate to difficult, are easily accessible from the campground. The Frying Pan Trail leads adventurers 1.6 miles (2.6 km) south to the Fire Tower at Frying Pan Mountain. Hiking north on the trail you'll arrive at the Pisgah Inn and from there, the Buck Spring Trail leads visitors through the thick hardwood forest and along rocky terrain to the Mt. Pisgah Parking Area. From the parking area it is a 1.6 mile (2.6 km) uphill trek to the top of Mt. Pisgah. The Shut-In Trail is the original route from the Biltmore Estate to the Buck Spring Lodge, and heads north along the Blue Ridge Parkway toward Asheville. The Buck Spring Lodge was a mountain getaway for George Vanderbilt, owner of the famous Biltmore. The North Carolina Mountains to Sea Trail follows both the Buck Spring and Shut-In Trails, and connects to trails in Pisgah National Forest in both directions.